Regular price
$179.00 USD
Regular price
$179.00 USD
Sale price
$179.00 USD
Unit price
per
Sale
Sold out
Presenting the JHS "Smiley" Fuzz pedal, inspired by the first era silicon model Arbiter Fuzz Pedals.

The Smiley is part of JHS's new "Legends of Fuzz" series of replica pedals:

"At JHS Pedals, fuzz pedals have been in our lineup for over a decade. We have designed original circuits, replicated classics, and we have seen the trend of fuzz popularity come and go. The "Legends Of Fuzz'' series is our tribute to the most important fuzz circuits ever made. It is our way of ensuring that the stories of these effects live on in the music that you are going to make. From the earliest days of fuzz in the mid-60's London scene to the 1990's ex-Soviet military factories that brought the Big Muff back to life, fuzz tells a story, and that story includes guitarists just like you. There is nothing more primitive than plugging your guitar into a vintage fuzz circuit; it is raw, untamed, and so pure that it pushes the boundaries of what your instrument can accomplish. Plug into a fuzz and plug into sixty years of beautifully broken sound."

In 1966, a salesman named Ivor Arbiter saw the rising British rock scene demanding the effect of fuzz. He decided that his company Arbiter Electronics* needed to join the other London guitar product companies and release his own take on this trending sound. After seeing the circular base of a mic stand, he came up with the idea to put the effect in a similar round enclosure and give it a face: two eyes made of knobs, a foot switch nose, and a brand label mouth.

Thus, the Fuzz Face* was born. That same year an American guitarist named Jimi Hendrix arrived in London and adopted Ivor's design as his weapon of choice, and the rest is history.

The first few years of the Fuzz Face* were manufactured using germanium transistors but by 1969, germanium fully gave way to silicon devices and Arbiter never looked back. Hendrix himself preferred the silicon versions over germanium because of their sound, aggressive bite, and their stability in environments where germanium proved inconsistent. The JHS Smiley is a sonically faithful recreation of what makes these early silicon Fuzz Faces great. Several vintage units from Josh's personal collection were considered and analyzed so that JHS could be sure to perfectly capture the magic that Josh loves in this era.

The Smiley is clear and defined, straddling the line between distortion pedal and a searing sustain, sustaining low end and crisp mid-range bite that you expect from a vintage Arbiter unit. One of the most revered characteristics of a good Fuzz Face* is its ability to clean up when the guitar's volume is rolled back, and the Smiley does this effortlessly.

The controls are Volume and Fuzz. Volume sets the overall output level of the effect; turn it up and it gets louder. Fuzz is the distortion control; the more you turn it clockwise, the more fuzz you create. On the side you will see a "Mode" control. Push this button to access JHS's own unique "JHS Mode". This mode sends the Smiley into high gain / gated fuzz territory that you may never want to come back from.

If you want a fuzz that covers coveted classic tones, look no further. Legends like Jimi Hendrix, Jack White, Eric Clapton, David Gilmour, and Eric Johnson have used this circuit on countless albums. Now it's your turn.
Share
View full details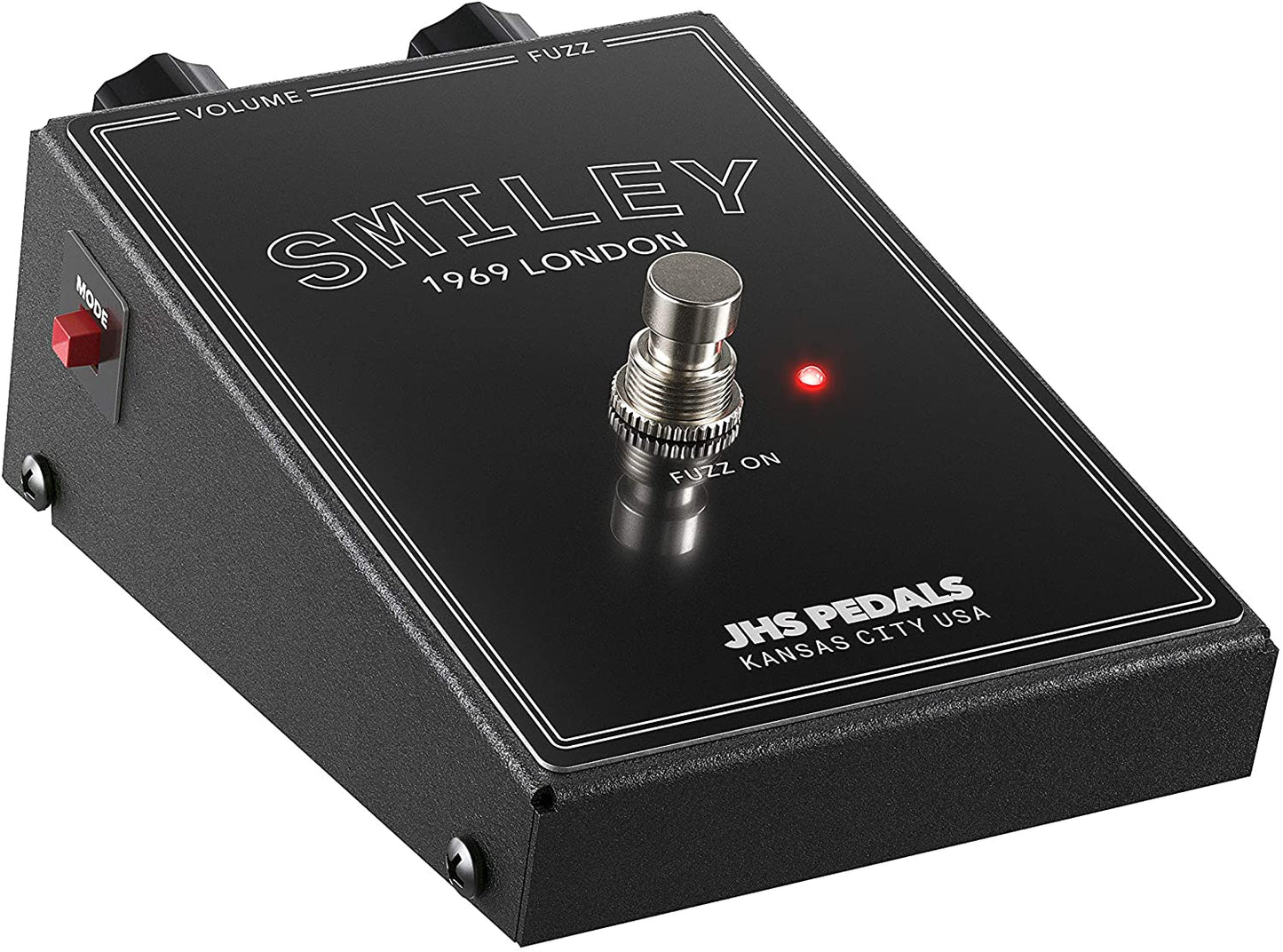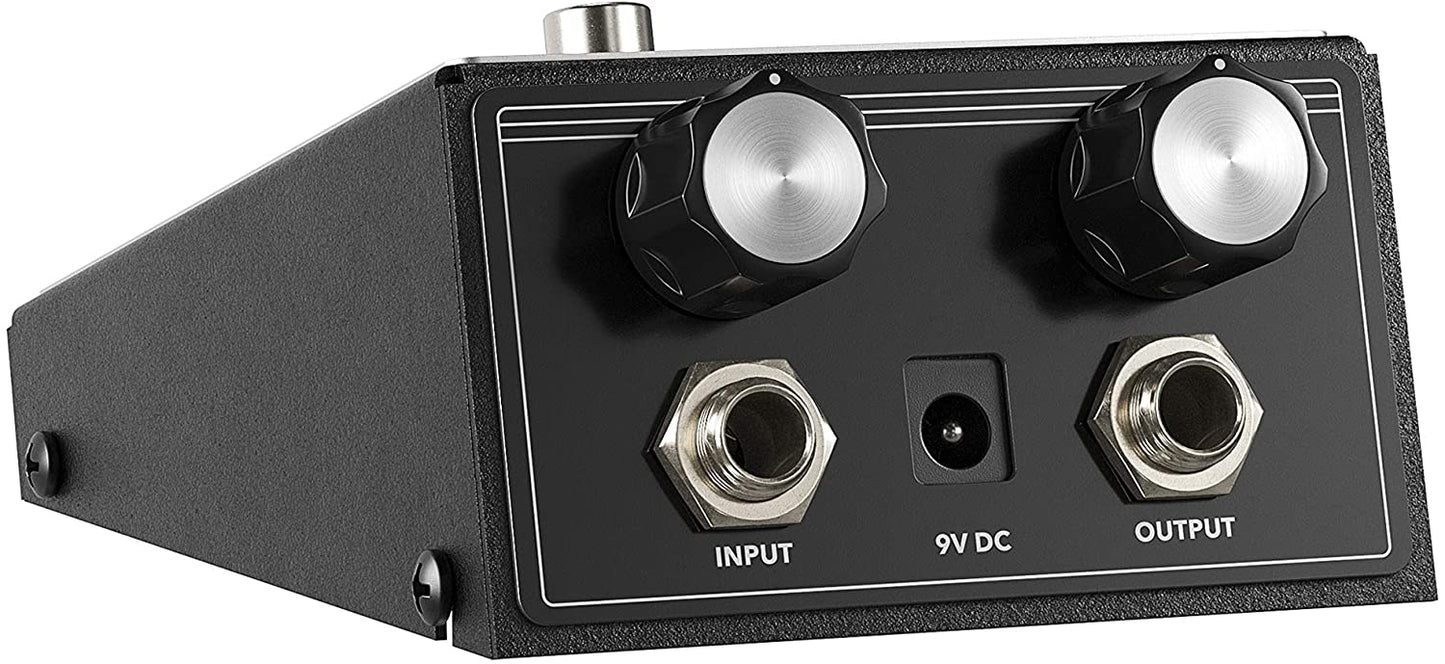 Collapsible content
Frequently Asked Questions

If you don't see your question please reach out to us. We are available to answer any and all questions you may have about your order or a product you are interested in. 
email: sales@edenguitars.com
phone: (626) 258-0009

Q. I don't see the guitar body I want. Can you make it for me? 

A. Yes! You can create your own custom order here. Please be aware of the lead times involved with creating a custom order. 

Q. You don't have an item I want in stock. Can you call me when you get it? 

A. Due to high demand and logistical reasons, we cannot hold certain items on backorder for you. The best option would be to sign up for our newsletter to be notified when new products are available. 

Q. Where are your necks and bodies made? 

A. Our necks and bodies are sourced overseas in China. Most luthiers know this based off the price of our items. If you can find a U.S. Made guitar neck or body for under $200 we suggest you snag it quick. 

Q. Where are your cases manufactured? 

A. Our cases are designed in California, but like our necks and bodies they are also sourced overseas. The price is indicative of this. 

Q. Do you offer free shipping? 

A. We offer free shipping in the domestic U.S. Shipping to Hawaii, Alaska or other US territories requires additional fees. International shipping is available, and shipping prices depend on your region. 

Q. How do you handle customs and duties for International orders? 

A. As the shipper we are not responsible for customs fees or import duties your region may require for your shipment to be delivered. This is done solely at the discretion of your region's import policies. If you have any issues with this, please contact the parcel carrier responsible for delivering your item for more instruction or guidance.  

Q. Can I pick up my order in person? 

A. Yes you can. We ask that you give us at least 1 business day to prepare your order for curbside pickup. We don't allow people into our offices, so your order will be brought out to you. We also ask that you wear a mask when picking up your order to protect our employees. 

Q: An order I recently purchased is now listed for sale. Can you refund me the difference?

A. This is something we will do at our own discretion. If you placed an order within a day or two before the item went on sale, please email us so we can assist you.

Q. I tried to use a coupon and it didn't work. What should I do? 

A. If you received a coupon code in the form of a digital code or physical thank you card that came with a previous order, that code has limitations. Promo Codes are only valid on Allen Eden®️ Guitars products. The promo code will not work if you are trying to apply them to any other products on our store.

Q: What is the warranty on my Allen Eden®️ Guitar?

A: Here is the Allen Eden®️ Guitars warranty 

Warranty Time Period: The warranty provided herein is a limited lifetime warranty.

Warranty Coverage: Allen Eden®️ Guitars (AEG)  are warranted to be free from defects in material and workmanship from the date of purchase to the original owner when purchased from an authorized Allen Eden®️ Guitars or direct from an authorized Allen Eden®️ Guitars dealer. Allen Eden®️ Guitars will repair or replace, at its option, any AEG instrument or part thereof which is found by AEG to be defective. AEG reserves the right to use materials regularly utilized at the time of repair in the event that original materials are no longer available. Warranty service requires a copy of the original sales receipt to be presented at the time of service request.

​This warranty does NOT cover:
1. Any instrument modified after original shipment from AEG factory.
2. Any instrument that has been altered or modified in any way or upon which the serial number has been tampered with or altered.
3. Any instrument that has been damaged due to misuse, neglect or accident.
4. Any instrument that has been subjected to extreme humidity or temperature conditions.
5. The subjective issue of tonal characteristics.
6. Any instrument that has been serviced by unauthorized persons.
7. Shipping damages of any kind.
8. Normal wear and tear (i.e., worn frets, worn machine heads, worn plating, string replacement, scratched pickguards, damage from accessories [straps, etc.], or damages to or discoloration of the instrument finish for any reason).
9. Freight charges to and from the factory or authorized dealer for customer-owned goods.
10. Claims by anyone other than the registered owner.

​How to Obtain Warranty Service: In the event of malfunction of your AEG, you should notify your nearest authorized AEG dealer. The dealer will contact AEG for information and authorization to return the instrument to company headquarters. The dealer or owner must ship the instrument freight and insurance prepaid. No instrument may be returned to AEG without prior return authorization.  Refusing a delivery from our parcel carrier will also result in a deduction of the original shipping costs as well as a 15% restocking fee. Service performed by unauthorized persons will void this warranty. When returning an instrument, a copy of the sales receipt establishing proof and time of purchase must be sent with the instrument.

Warranty Limitations and Disclaimers: AEG's sole and exclusive responsibility shall be as provided under this warranty and UNDER NO CIRCUMSTANCES, SHALL AEG BE LIABLE FOR ANY INCIDENTAL OR CONSEQUENTIAL DAMAGES. THIS LIMITED WARRANTY IS YOUR EXCLUSIVE REMEDY AND IS MADE IN LIEU OF ALL OTHER WARRANTIES, EXPRESS OR IMPLIED. ALL IMPLIED WARRANTIES, INCLUDING, WITHOUT LIMITATION, ANY IMPLIED WARRANTY OF MERCHANTABILITY OR FITNESS FOR A PARTICULAR PURPOSE, ARE HEREBY EXPRESSLY LIMITED IN DURATION TO THE DURATION OF THIS WRITTEN WARRANTY.

​Some states do not allow limitations on how long an implied warranty lasts, or the exclusions may not apply to you. This warranty gives you specific legal rights and you may also have other rights which vary from state to state. No person, whether or not an agent, is authorized to make or assume any obligations other than those stated in this warranty. AE Guitars SHALL NOT BE LIABLE FOR ANY EXPENSES, CLAIMS, OR SUITS ARISING OUT OF OR RELATING TO ANY OF THE FOREGOING.
Shipping Policy

Free Shipping

All orders placed in the contiguous United States comes with free shipping regardless of the amount spent. If you want to request a shipping quote from Alaska, Hawaii or other US territories please contact us directly. 

Expedited Shipping

If you require expedited shipping, please let us know ahead of placing your order so we can quote you accurately.

Refunds for expedited shipping charges are not accepted. 

International Shipping & Customs 

We are pleased to offer international shipping to our customers worldwide. We understand that our customers come from different parts of the world and we strive to make our products and services available to as many people as possible. To ensure a seamless experience, we have developed an international shipping policy that outlines our shipping terms and conditions.

Shipping Rates and Delivery Times
International shipping rates and delivery times will vary depending on the destination country and the shipping method chosen at checkout. Shipping rates will be calculated automatically at checkout, and delivery times will be estimated based on the shipping method selected.

Please note that the estimated delivery times are provided for informational purposes only, and they may vary due to circumstances beyond our control, such as customs delays or postal service disruptions. We do not guarantee delivery times, and we are not responsible for any delays or additional fees incurred due to customs or local delivery services.

Customs and Import Taxes
When ordering from AE Guitars, customers are responsible for ensuring that the products they are ordering comply with the laws and regulations of their country. Customers are also responsible for paying any applicable customs and import taxes, which may vary depending on the destination country.

Customs and import taxes are not included in the product price or shipping cost, and customers are responsible for paying them directly to the customs authorities of their country. If the customer refuses to pay these fees and the package is returned to us, we will refund the order amount minus the shipping cost and any additional fees incurred.

Restricted Items
Certain products may be restricted or prohibited from entering certain countries due to local laws and regulations. Customers are responsible for verifying whether the products they are ordering are allowed in their country and comply with local laws and regulations. We do not guarantee that all products are allowed in all countries, and we reserve the right to cancel orders or refuse service to customers in certain countries.

Lost or Damaged Packages
We take great care in ensuring that our packages are delivered to our customers in good condition. However, we cannot be held responsible for lost or damaged packages once they leave our warehouse. If a package is lost or damaged during transit, we will do our best to assist customers in filing a claim with the shipping carrier or postal service.

Returns and Refunds
We do not accept returns or issue refunds for international orders unless the product is defective or damaged upon arrival. Customers are responsible for paying any return shipping costs and any additional fees incurred. We reserve the right to refuse returns or refunds at our discretion.

By placing an order with AE Guitars, customers agree to these terms and conditions.

Shipping Cut-Off Times

Each order placed before 10:00 a.m. Pacific will likely go out that same business day. Orders placed thereafter will ship the following business day. We ship Monday through Friday excluding Holidays. 

Local Curbside Pickup

We allow local curbside pickup for most products we sell. Please contact us directly after placing your order to schedule a pickup time. We don't allow same-day pickup. Most products can be picked up the following business day your order was placed.

To protect the health of our workers we don't allow anyone into our office. Your order will be brought out to you while you wait outside.
Wholesale Pricing

Are you a professional guitar luthier looking for a new source for guitar bodies, bass bodies, or necks for your custom builds? Our wholesale pricing is automatically calculated for you at check-out depending on the quantity of items you order. No need to show proof of a business license to get this deal, the savings are there for the taking right now!
Returns Policy

Returns Policy

You may return most new, unopened items within 14 days of your original purchase date for a full refund. A 10% restocking fee may apply depending on the situation. Shipping costs for international orders are non-refundable. It is also the buyer's responsibility to pay return shipping costs if you are intending to return an item. Products marked as "Final Sale" are non-returnable.

Returns that may fall under the category of buyer remorse include but are not limited to: Color or weight discrepancies, specification issues with your parts, a case not fitting with your instrument, and simply changing your mind about your order. This will require the buyer to pay for return shipping and may still incur a 10% restocking fee.

In order to process your return request, please email sales@edenguitars.com and provide us with the following information:

Order number
Product name and details (and at our request, photos of the product)
Reason for return

Once we have this information, we will do our best to process your request in a timely manner. If a return is approved and a return label is sent to you, you will have up to 14 days to return the item before the label becomes automatically voided and the return closed.

Parts Compatibility

Specifications on our bodies and necks may have a 1-2 mm tolerance. It is your responsibility to make sure your parts will work with this body before purchasing. If your parts do not fit, you can either source compatible parts or you can request a return but return shipping will be your responsibility if this is the reason. A restocking fee will apply in this situation as well.
Send us a message before buying if you have any questions about compatible parts and we'll do all we can to assist.

All returned product must be in "as received" condition and unaltered in any way. Do not bolt together, install screws, sand, drill, rout, paint, file, take the protective plastic off pick-guards or alter the product in any way until you have thoroughly inspected it for accuracy and have checked the fit. Products that has been damaged or altered in any way will not be accepted for return. If any signs of installation are found including impressions from screws or test fitting tuners, the item will not be eligible for return. Returns are not granted for factory second or blowout items under any circumstances. 

Damaged Items

If you are returning an item damaged in transit, please contact us via e-mail with clear photos of the damage. We will approve most damage returns after opening a UPS/USPS claim. If a damage return is received and no damage is found, your refund will be released minus the return shipping costs and a restocking fee.

Custom Orders

There are no returns or cancellations accepted on custom order products. Due to the nature of how they are produced, we cannot honor cancellations after we have submitted your order for production as they are made-to-order products. Each and every custom order product will go into production within 48 hours of the order being placed. Each custom order will be inspected by our in-house luthier before being shipped to you to ensure our high quality standards. Please keep this return policy in mind before making your purchase.

Refunds

You should expect to receive your refund within 2 weeks of the package arriving at our offices, however, in many cases you will receive a refund more quickly. This time period includes the transit time for us to receive your return from the shipper (5 to 7 business days), the time it takes us to process your return once we receive it, and the time it takes your bank to process our refund request.